At BH Students, we're all about having fun and growing closer to Jesus. Weekly youth group helps us develop positive friendships and connect with caring adult leaders as we learn about God and what it means to follow Jesus in our every day lives. Events and activities help us deepen connections and just have fun together.
We want to continue to encourage you, resource you, and grow together as a community.
We have a student gathering every Wednesday from 6-7:30pm at our Hilltop campus.
(4555 Hilltop Dr., El Sobrante)
Wednesday evenings from 6/23 through 7/21 we will be meeting at Foxboro Park for Summer Nights. Bring a friend and bring your families for an awesome time of games, prizes, giveaways, and free hamburgers and hot dogs. Every night has a different theme and the activities and prizes will match that theme.
We can't wait to see you there!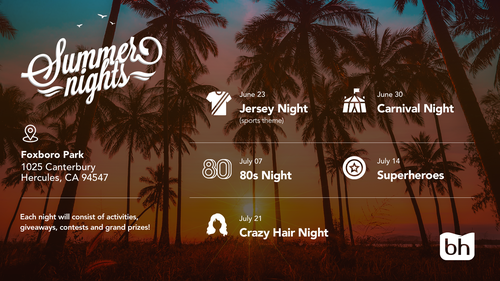 Regular Wednesday night gatherings will resume September 1st.
Is it an overnight camp?
Yes, Camp Pondo is an overnight camp.

What are the rooming arrangements?
Students will be placed in separate facilities by grades (Middle School and High School) and gender.

Who will be chaperoning my student at camp?
Out students will be chaperoned by our Bay Hills adult youth leaders. All leaders have gone through our application and screening process, including background checks.

How is my student getting to camp?
Bay Hills is chartering a coach bus. The cost of the bus is included in the registration price.

Is there a way for my student to fundraise for camp?
Yes. We will be offering a fundraising opportunity to students. We also encourage them to do individual fundraisers such as yard work, babysitting, etc.

What will my student be doing at camp?
In addition to epic, fun activities such as swimming, zip-lining, sports and more, each day students will hear an inspiring, relevant, and biblical message by our camp speaker and engage in community and discussion about how to apply what they are learning to their everyday lives.

Will my student need extra money?
Students will need money for food on the way to and from camp (rest stops), and for any snacks or merchandise they would like to purchase at camp (optional).

Have more questions?
Get Connected. Go Deeper.
Small groups are the backbone of everything we do at Bay Hills. They help us foster our relationships with
each other and with God. Here's what small groups look like in our youth ministry.

Who they're for: 6th-12th grade students organized by grade level and gender

Why they're important: In small groups, students have a safe space that affords them an opportunity to grow in faith and build healthy relationships with peers and caring adults. These connections make life feel less overwhelming, helps them get to know themselves and others more deeply, allows them to experience the power of prayer, support, and encouragement, and helps them learn how to integrate their faith into everyday life.

What we do: Small groups include time for hanging out and getting to know one another better, conversations facilitated by our amazing adult leaders during which students process teaching and discuss life applications, and time for sharing and praying for one another.

When they happen: Join us on Wednesday nights at our Hilltop campus at 4555 Hilltop Dr, El Sobrante from 6-7:30pm.
Follow us on Social Media